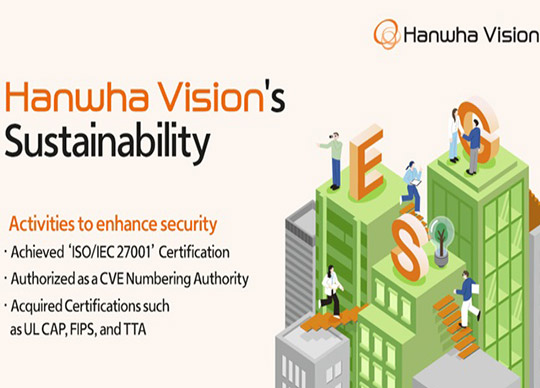 Hanwha Vision says it has achieved "ISO 27001 (ISO/IEC 27001)" certification, the international standard for information security, and has been recognized for its stable information security management system (ISMS).
ISO 27001 is the world's standard for ISMS, established by the International Organization for Standardization (ISO) and the International Electrotechnical Commission (IEC).
In order to achieve this certification, a company must pass 93 controls organized into four sections, including organizational, physical, technological, and people controls.
"Technology advancement is like a double-edged sword in security." a Hanwha Vision official said, "As a global vision solution provider that develops and utilizes technologies such as AI and cloud, we will never stop thinking about and realizing sustainable technologies to maximize the positive functions of state-of-the-art technologies and to utilize them safely at the same time.
In addition to ISO 27001, Hanwha Vision is carrying out activities for sustainable management through various ISO certification efforts, such as 9001 (quality management system), 14001 (environmental management system), and 45001 (occupational health and safety management system).