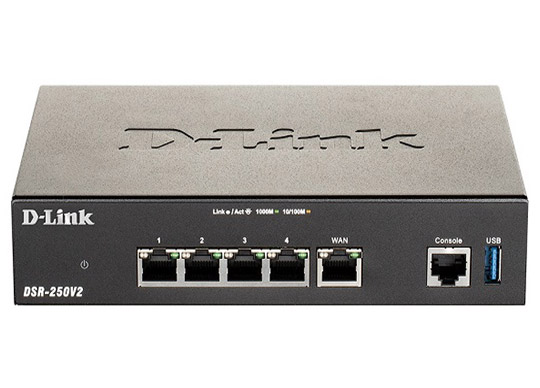 D-Link has launched its DSR-250V2 Unified Services VPN Router for small to medium businesses.
It comes with features such as WAN failover, load balancing and an integrated firewall, the DSR-250V2 is a reliable, secure and flexible way to manage any network. With its full-featured VPN offering various encryption methodologies, secure communications between mobile or remote employees, as well as branch to branch offices, can be easily configured.
A key feature requested by many SMB's, the DSR-250V2 boasts a built-in Captive Portal which enables employees or guest users to be easily authenticated and authorised by accessing customised landing pages, such as when guests arrive at a hotel, or when users want to access the Internet whilst at their local coffee shop.
Additionally, the DSR-250V2 provides the option for automatic failover to a second or backup Internet link where available, providing piece of mind in the event the main Internet connectivity link fails.
The DSR-250V2, being the latest member of the D-Link DSR Series of Unified Services Routers, also offers valuable Web Content Filtering features, allowing business owners or administrators to monitor, manage and control users Web and application usage.
Static Web Content Filtering helps to remove malicious objects such as Java applets, ActiveX and cookies or to block URLs down to the keyword level. Dynamic Web Content Filtering, which requires an optional licence subscription, allows administrators to filter content from a list of categories and multiple global index servers, with millions of URLs and real-time website data providing even more granular control over the content and applications allowed into the business network.
The DSR-250V2 VPN Router also has a high-performance firewall with up to 950Mbps throughput and VPN (3DES) performance up to 200Mbps throughput, whilst supporting up to 75 simultaneous VPN tunnels, allowing more devices to be connected, and faster.
Image: D-Link DSR-250V2 Unified Services VPN Router for Small to Medium Businesses.