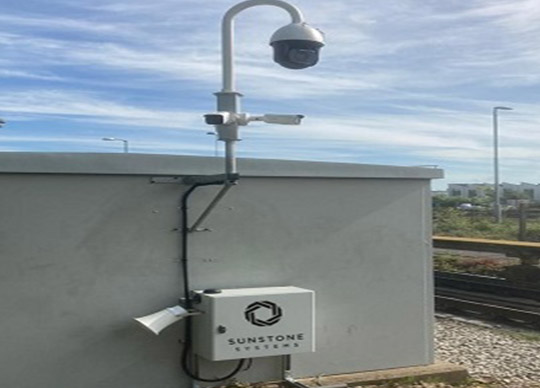 Sunstone Systems has unveiled its latest innovative product – one it believes will help businesses and contractors working on sites to finally turn the tide against construction crime.
Sunstone's IO System is a tech solution designed to solve problems, it has been specifically developed to tackle site crime. This is a rapidly deployable security and communication hub that is designed to support multiple CCTV cameras of any type, but with options to scale as required.
The security version of the IO provides around the clock surveillance with intrusion detection, perimeter security alerts and other AI Video Analytics options that can be streamed, via a mobile network, to any location or device.
It also comes with a PA horn for instant, live or pre-recorded audio deterrents and out-of-hours alarm monitoring with pre-agreed escalation process.
Machinery and equipment theft continues to plague the UK with a survey by the Chartered Institute of Building reporting that 92% of construction companies claiming they are directly affected by petty crime and 21% revealing that their sites are robbed on a weekly basis. In 2020 the total cost of theft and vandalism in the UK construction industry totalled £800 million.
"For sectors reliant on construction and building, this is a pandemic after the pandemic", said Paul Schelhaas, Chief Executive Officer, Sunstone Systems. "On the one hand we have a shortage of new equipment and long lead times increasing demand for second-hand machinery. On the other, the energy crisis means it is often prohibitive for sites to run lighting and CCTV 24/7 – two major deterrents for thieves and vandals. Unless something changes, the situation isn't going to improve."
Schelhaas continued, "The IO System concept seems very simple, but it is so much more than just a box. It is a flexible solution. If you buy an IO System from us, you are ensuring flexibility, reliability, and a great return of investment. One of Sunstone's USPs is our ability to utilise our in-house specialists in every discipline to deliver robust solutions to our client's problems. There is rarely a 'one size fits all' which is why we offer bespoke alterations or options to partners to ensure that the final solution is the best in class".
Along with connecting to various sensors like environmental monitors, IOT devices, and PIR sensors, it can accommodate different types of cameras from multiple manufacturers, including thermal imaging.
The camera setup can be quickly installed and operated in a cost-effective manner, providing live streaming with minimal effort.
The base of the product is in a secure, lockable and vandal-resistant cabinet. It is also fitted with tamper alerts and battery back-up in the event of power failure, while all data stored is encrypted and cyber secure.
Schelhaas concluded, "This version of the product delivers surveillance, security and connectivity. It's a key asset in the fight against theft and one we know sites throughout the UK are calling out for."