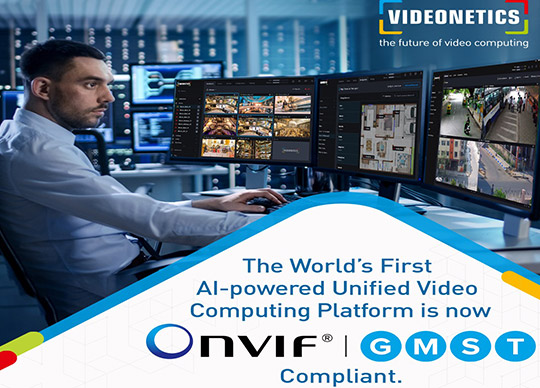 Videonetics has announced its patented Unified Video Computing Platform (UVCP™) is now ONVIF S, G, T, M Compliant.
Powered by AI and DL framework, Videonetics Unified Video Computing Platform encompasses Intelligent VMS, Video Analytics, Intelligent Traffic Management System, Facial Recognition, and Video Computing Platform as a Service (VCPaaS).
Videonetics says today it has secured more than 145 cities, 80+ airports, 18000+ traffic lanes and 100+ large enterprises across many geographies.
On this achievement, Tuhin Bose, VP & CTO, Videonetics expressed, "Receiving ONVIF 'S, G, T, M' conformance for our AI enabled Unified Video Computing Platform is a benchmark and achievement for us. Achieving ONVIF compliance empowers our partners and customers to integrate a wide range of IP based video surveillance devices that are best suited for their projects while ensuring flexibility and integrity. Videonetics is committed to continue adopting open standards for better interoperability and openness".
Profile S allows the common functionalities shared by ONVIF conformant video management systems and devices such as IP cameras or encoders that sends, configures, requests or controls the streaming of media data over an IP network. The profile includes specific features such as pan, tilt, zoom control, audio streaming and relay outputs.
Profile G specifications allow software and hardware products from different vendors to be compatible with one another, when it comes to the recording, search and replay of video on board a network video product.
Profile T supports video streaming features such as the use of H.265 over and above H.264, MPEG-4 and MJPEG encoding formats, imaging settings, and alarm events such as motion and tampering detection. These encoding formats ensure high compression efficiency which results in less disk storage space and less bandwidth usage for streaming, reducing overall costs of system ownership.
Conformance to Profile M enables easier integration of metadata and events with ONVIF Profile M conformant clients like video management software and services. It has interfaces for generic object classification, and specified metadata for geolocation, vehicle, license plate, human face and human body.