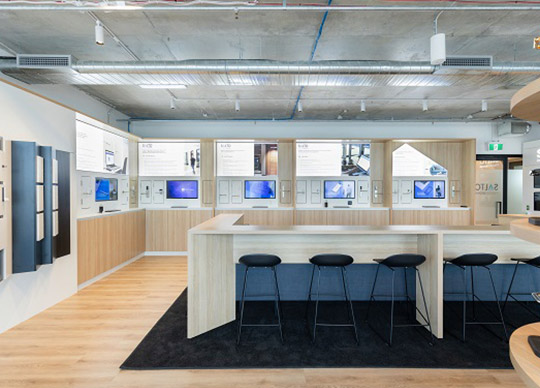 SALTO Systems today launched its first Australian innovative XSperience Centre located in Cremorne at the heart of Melbourne's technology and creative precinct.
SALTO's immersive XSperience Centre showcases SALTO's innovative smart electronic access control that boasts a wide range of electronic locks and lockers as well as state-of-the-art on-premise and cloud software solutions.
Mr Frederik Troester, General Manager, SALTO Systems Oceania enthuses, "We are delighted to launch our first innovative and engaging technology experience in Australia. Visitors can interact with the future today and see firsthand how far access control technology has moved ahead. Our cutting-edge technology solutions provide organisations with enhanced physical and digital security.
"The XSperience Centre has been designed to showcase SALTO's latest product and technological innovations, and provide best-in-class partner certified education programs and experiences, instructional sessions and new product launches. We are committed to helping our sales and integration partners realise the full potential of the SALTO product range," he says.
Located on the fifth floor at 1 Gordon Street in Cremorne, the space features an outstanding heritage brick façade and rooftop terrace with uninterrupted 360-degree views of Melbourne. SALTO's architecturally designed XSperience Centre is a luxurious contemporary space that is available from today for training sessions, thought-leadership panel discussions, industry-networking events and client/partner entertaining.
The XSperience Centre is sectioned with areas featuring solutions for government, workplaces, property/commercial real estate, education, healthcare, hospitality and much more. On arrival, visitors will first experience a SALTO-blue welcome wall of GANTNER lockers secured with SALTO Systems' state-of-the-art locks so visitors can securely store their belongings while enjoying the space. GANTNER, an Austrian company acquired by SALTO in 2020, provides a holistic solution to end-of-trip and staff locker access that seamlessly integrates with SALTO and the overall XSperience Centre journey.
With 270m2 of floor space, the SALTO XSperience Centre provides the user with the ultimate keyless experience. Visitors can interact and engage with SALTO's different platforms, including the SALTO ProAccess SPACE web-based management software and cloud-based solutions, as well as mobile, wireless, offline options and additionally the GANTNER electronic battery-powered and networked smart locks. There's even a MyLock touchscreen that enables the user to configure and create their own customised door and lock.
"Our access control solutions reduce risk by ensuring a secure environment, providing a real-time emergency response and clear audit trail. We eliminate complexity, reduce time and costs. All building types and access points can be integrated into an existing system," explains Mr Troester.