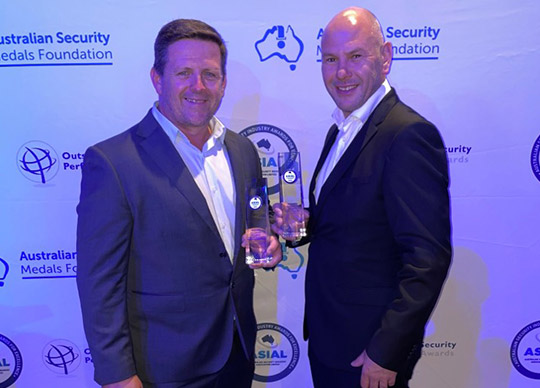 Gallagher has announced it has been the recipient of two Australian Industry Association Limited (ASIAL) Awards at the 2022 Australian Security Industry Awards last night. Gallagher won the Security Equipment Manufacturer/Distributor award for the second year in a row and their cloud-based security solution, Gallagher SMB won in the Product of the Year – Alarm category.
"We're so proud to win these awards and be recognized again for our dedication in redefining the expectations of security technology." says Gallagher's Vice President for Asia Pacific and IMEA, Craig Schutte. "The demand now is to simply supply. Gallagher, with our integrated manufacturing and continual investment into R&D, has been able to consistently deliver products throughout the current global supply chain crisis."
Greg O'Neill, National SMB and Perimeter Manager, says "The beauty of the Gallagher SMB alarm solution is the flexibility it offers customers. If an alarm is triggered, customers receive a notification via the app, enabling them to investigate further, silence the alarm, or – through the seamless integration with Wilson Security – request a security guard to check on the site. Alternatively, customers can opt for a third-party monitoring company to be notified by the system and act accordingly based on an agreed response plan. We've simply put the power in their hands."
Organised by ASIAL, the 26th annual Australian Security Industry Awards for Excellence was held in conjunction with the 7th annual Outstanding Security Performance Awards (the OSPAs) and 11th annual Australian Security Medals Awards.
The awards ceremony took place on Wednesday 19 October 2022, at Doltone House Hyde Park Sydney.