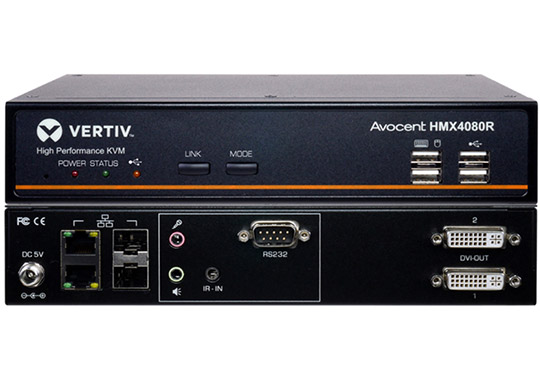 Vertiv has introduced the Vertiv Avocent HMX 3080/4080 series, an IP-based signal extender allowing users to remotely transmit Digital Visual Interface (DVI) video, audio, USB and RS232 signals over a Gigabit network.
The Vertiv Avocent HMX 3080/4080 series joins the company's IP-based Kernel-based Virtual Machine (KVM) portfolio. It improves from the Avocent HMX 1080/2080 series with the below key benefits:
Key Benefits
Enhanced Performance: Comprising transmitter and receiver units, each device is assigned a unique IP address to help mitigate KVM transmission losses.
Flexible Architecture: The desktop-based Avocent HMX 3080/4080 offers multiple connectivity options. The receiver and transmitters can be directly connected using CATx and fibre cables. Using the integrated network ports, a single transmitter can be connected to multiple receivers or vice versa, and for connectivity redundancy.
Virtual IP Matrix: With sufficient bandwidth and network switch ports, an IP matrix architecture can support up to 65,000 receivers in the same network.
Ease of Use: Any receiver terminal in the network can autodetect and configure all the devices in the network.