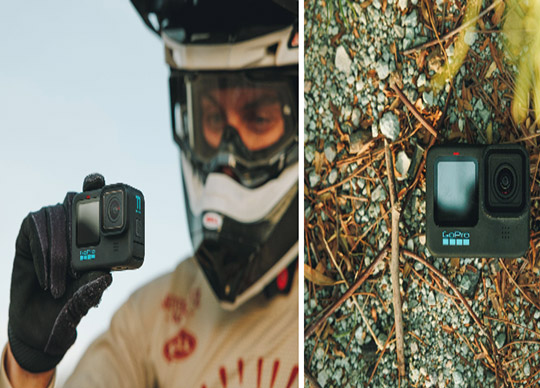 GoPro has announced three versions of its all-new HERO11 Black camera: HERO11 Black, HERO11 Black Creator Edition and HERO11 Black Mini. All three cameras feature a new, larger sensor that delivers the highest resolution, highest 10-bit colour depth, highest level of video stabilisation and widest field of view ever featured natively in a HERO camera.

All three HERO11 Black cameras also deliver automatic highlight videos to your phone.
New Larger Sensor Captures 10-bit Color and the Widest
The new 1/1.9" sensor delivers over 1 billion colors in 10-bit color video at up to 5.3K resolution at 60 frames per second in both HERO11 Black and HERO11 Black Mini and 27 megapixel photos in HERO11 Black for images that are truer to how your eyes perceive them in the real world. This results in 64X more colors captured in 10-bit video over the 16.7 million colors in 8-bit, a staggering leap forward in image quality over previous GoPro cameras.
HERO11 Black's new larger sensor also enables 8:7 aspect ratio video for the largest vertical field of view ever on a GoPro. This means you can now capture more of a scene vertically with the ability to crop for different aspect ratios in the GoPro Quik app—perfect for simultaneously creating extra-tall 9:16 vertical shots for Instagram and TikTok, plus high-resolution 16:9 cinematic shots ideal for YouTube or the big screen. You can also zoom in on the best sections of your videos to create high-resolution closeups.
The new sensor also enables HyperView, the widest 16:9 field of view ever native to a HERO camera. Ideal for filming first person view of yourself biking, skiing, surfing, motorcycling and similar activities, HyperView makes your favorite activities look faster and more heroic than you ever imagined possible.