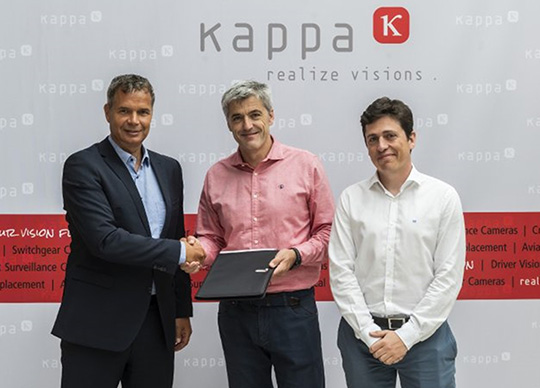 Kappa optronics has announced it is officially part of the European MALE RPAS program, the Eurodrone. Kappa says its vision experts were convinced in the rigorous selection process at Airbus Defence and Space, which leads the European industrial consortium.
The launch nations France, Italy, Spain, and Germany, represented by their joint armament organisation, OCCAR, want to develop the Eurodrone entirely with European technology.
Johannes Overhues, co-shareholder and managing director of Kappa optronics, said, "It is both a great honor and an obligation that Airbus has placed this trust in us. We look forward to making a decisive contribution to the success of the Eurodrone with our key expertise in the field of safety-critical vision systems for aerospace applications! In the field of aerospace cameras and vision systems, Kappa is one of the leading international suppliers. With a passionate development team in Germany and Spain, the company brings state-of-the-art multispectral sensor technology to 24/7 aerospace applications such as UAV piloting or aerial refueling. The Eurodrone is the second major aerospace program for which Kappa has been contracted by Airbus. A close partnership links the companies, and Kappa is a strategic supplier. For more than 15 years, Kappa has supplied a cutting-edge vision system for the world's leading aerial refueling system in the Airbus A330 MRTT transport and tanker aircraft. For its outstanding performance, Airbus recognized Kappa as the most innovative supplier in 2019 with the "Best Innovator Overall award".
An impetus for Kappa, Overhues says: "In the last two years, we have positioned our aerospace division even more strongly and invested heavily. This includes, for example, the establishment of our new subsidiary in Madrid and a massive expansion of our international development team. Among other things, we were able to recruit 12 new specialist engineers in the aviation sector. We have also systematically expanded our technology portfolio, for example in infrared technology." With dedicated process assurance and modern agile working methods, the company is equipped and qualified for the most demanding projects. Airbus obviously sees it that way, too. "For us, Kappa has always been a very reliable and technologically leading supplier with whom we enjoy working closely. Due to the investments made, Kappa has been able to compete with other suppliers once again in this important, European program," says José-Maria Hernandez-Garcia, responsible purchaser of Airbus Defence and Space. Colleague Miguel Ángel Escudero García, Airbus Defence and Space programme coordinator, adds, "The experience from the MRTT program was a good baseline, but our supplier qualification and selection procedures are very strict for any new program. The Kappa team had to prove their competence in detail to get into this program. They convinced us!"
Responsible at Kappa is the head of the Aviation Business Unit, Axel Zimmer: "Our team has been preparing for this project for years and has performed excellently. We were able to win the selection process with our good and resilient concepts and we will also deliver a top performance in the implementation. How crucial a high-performance Eurodrone is for our independent defense capability in Europe has become clear to everyone this year at the latest. We know what we are working for! "