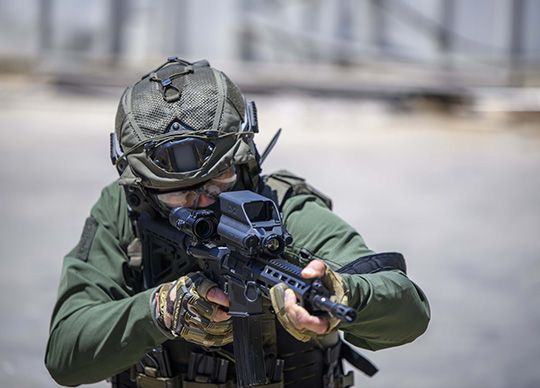 Meprolight has announced its first orders of its recently launched advanced MIL-STD Mepro TIGON sight. The system integrates the advantages of uncooled thermal imaging technology with those of see-through day optics ("red -dot" sights) in a single product, enabling complete operational flexibility, day and night.
The integrated technology enables operational flexibility for mission success in open terrain, CQB scenarios, densely-vegetated areas – such as jungles – and more. Being compact and lightweight, it reduces weapon-load, improves weapon balance, and simplifies operations compared with similar non-integrated solutions.
For day use, the Mepro TIGON's large transparent display window and clearly-visible reticle enable rapid target acquisition, with both eyes open. At night, the thermal image projected onto the same display effectively supports spotting and engaging targets in complete darkness and harsh environment conditions, including smoke and dust.
To increase the effective day range of the sight, a tactical magnifier can be fitted behind it, while the digital x2 zoom of its thermal channel may be employed at night.
Additional features and advantages include:
High accuracy zeroing system
 Wide

FOV

 in both day and thermal modes
Remote control cable for convenient operation without removing hands from weapon
Light sensor for seamless auto-adjustment of day

reticle

 brightness
 Long operating time – thousands of hours in day mode, and more than seven continuous hours in thermal mode
Power-saving mechanism for maximum energy efficiency, without compromising

reticle

 availability
Low operating costs – powered by two commercial "AA" batteries
Video-out interface for connectivity to external monitors and communications systems
Quick-release high-durability Picatinny rail (MIL-STD-1913) mount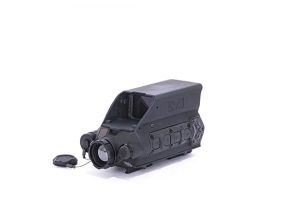 "The Mepro TIGON was developed in direct response to the needs of military, security, and law enforcement users for a sight that both, has high performance capabilities, and, is cost-effective enough to enable large-scale fielding for significantly increasing numbers of night-combat enabled users within forces," says David Shenhav, S.V.P. Sales & Marketing – Defense, at Meprolight. "Since the introduction of the sight to the market at the end of 2021 we have been actively demonstrating it to customers world-wide. Highly positive responses along with feedbacks received from end-users helped us streamline sight's operating software, and, additionally, already resulted in initial purchase orders to be supplied shortly. The period since launching the Mepro TIGON has definitely strengthened our confidence in system's concept and market potential. It efficiently supports seamless transition between day and night operations combined with changing tactical scenarios, all while subject to harsh environmental and weather conditions."