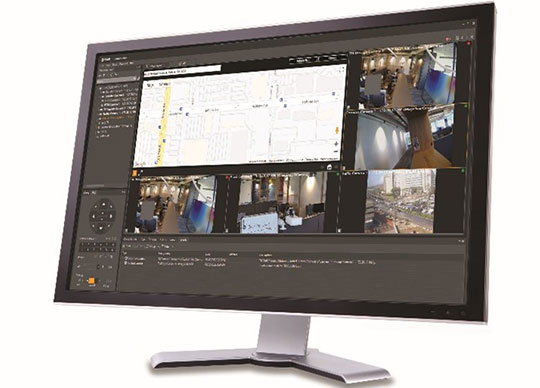 FLIR United Video Management Software (VMS) 9 is a field-tested and industry-trusted tool, allowing security managers access to system status, alarms, and video from anywhere at any time. This year, FLIR United VMS 9.2 has been upgraded to offer faster GPU decoding, added generic video stream functionality, and robust cybersecurity. Upgrades also include:
Secure, 24/7 access to system status
Future-proofed, system-wide scalability
Seamless integration and configurability
Flexible pricing structure for guaranteed ROI
What's New in UVMS 9.2
Faster GPU Decoding – The beating heart of VMS software is its graphics processing unit (GPU), which processes and renders multiple video streams simultaneously. The FLIR United VMS 9.2 delivers its users faster, improved performance, to allow more high-resolution streams under the same interface.
Added Generic Video Streams – With the need for scalable, end-to-end security systems expanding every day, the ability to add additional video streams with ease is key to a system's flexibility. With the new "Add Generic Stream" option with United VMS 9.2, users can provide more stream definitions, frame rates, and resolutions with ease.
Improved Cyber Security – Cyber security for video data processing and integration at the edge is critical. United VMS 9.2 features improved cyber security, in order to address ever-evolving threats to security systems. This expanded security allows users to securely access video assets and receive event alerts anywhere, anytime, guaranteeing round-the-clock peace of mind.
Expansive Add-On Modules
Condition Monitoring – For users deploying FLIR thermal sensors for condition monitoring and asset maintenance, this add-on module allows users to monitor temperature data from FLIR thermal imagers visually and issue alerts when temperature readings rise above or fall below preconfigured thresholds. Users can also use this tool to create their own maps with gauges, indicators, and line charts, dynamically displaying each asset's current state.
Video Redaction – For users who use video redaction to hide Personally Identifiable Information (PII)—such as the faces, tattoos, or other distinguishing features of moving targets in FOV—to adhere to privacy policies, this add-on module effortlessly redacts these features to protect individuals' privacy rights prior to video export.
Detection/Radar Module – Radars are a growing trend in perimeter protection. Using this UVMS radar integration tool, users can support multiple radars and PTZ cameras at once, displaying moving radar targets on a GIS map and allocating PTZ cameras to track them, according to selected tracking modes
Privacy Mask Enhancement (with third party integration) – FLIR United VMS 9.2 now allows the Privacy Mask to be a blurred field rather than being fully obscured. This allows a camera to determine the presence of a person and their general movements, without compromising their identity or privacy. This is ideal for use in sensitive areas, such as ablution areas, change-rooms, or even in general offices where personnel may be uncomfortable with being under detailed observation.
FLUX Module – The UVMS-FLUX integration enables users to monitor traffic cameras and alert events, generating verified alarms, recording and bookmarking recorded video content and mapping all information on a timeline, where all information about an event is stored for later review.