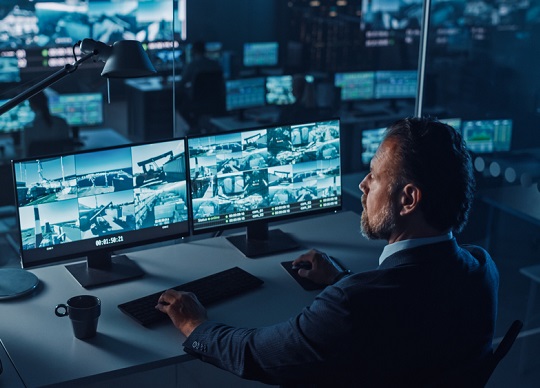 Security threats are becoming more sophisticated and the gap between the digital and physical landscape is narrowing, while technology and security converge. Businesses are beginning to experience cross functional use of products, services, technology and digital capability.
The security access and surveillance market is evolving and growing faster than ever.  Gartner predicted by 2024, businesses need to look at replacing legacy security systems with integrated strategies to reduce financial impact of security and threat incidents by an average of 90 percent.
The responsibility is now on IT and security leaders to revolutionise traditional security approaches and adopt new strategies that effectively prepare for, and address modern access and surveillance security needs, while protecting critical business assets.
For over 44 years, Dicker Data (ASX:DDR), has been recognised as the powerhouse at the centre of Australia's digital transformation, trusted by the world's leading technology, security and access control vendors and more than 8,200 technology partners across Australia and New Zealand.
Recognising the convergence between security and IT, Dicker Data is bringing to market Dicker Data Access and Surveillance (DAS), formally known as the Hills Security and IT division (SIT).
Historical success creates Australia's new access and surveillance distribution destination
Dicker Data DAS marks the dawn of a new era in security technology distribution. DAS will deliver the highest service levels, backed by knowledgeable, technical experts and extensive stock holdings of Australia's most comprehensive range of access, surveillance, and security solutions from world-leading vendors such as Axis, Aritech, Dahua, IDIS, SonicWall and more.  
The convergence of digital, cybersecurity and IT is a natural progression to protecting the entire business value chain and building a stronger security posture.
DAS will offer just-in-time access to a comprehensive range of security. From front line protection and premises security with access, control and intrusion solutions through to Artificial Intelligent (AI) backed video systems scalable for homes and businesses with intelligent facial and item recognition, through to perimeter detection capabilities.
As a value-added distributor working with customers as strategic partners, Dicker Data understand staying ahead of the curve to deliver best-practice solutions starts with upskilling and ongoing learning and development. Partners and security installers can embrace this next phase in security and technology confidently, by partnering with the Dicker Data DAS team of experts for training, enablement and certification programs.
 Experience is the difference.
Ready and built to scale-up, the division currently boasts nine DAS specific trade centre locations around Australia, creating a dedicated network of pick-up and trade-only shopfronts to support thousands of existing DAS customers.
Dicker Data is known for its customer-first approach and instant access to a team of the most highly certified and knowledgeable experts in their respective fields. Whether security installers need technical assistance to scope and design solutions for customers, or are in need of speedy order turnaround, the Dicker Data DAS team is your reliable, helpful and safe pair of hands.