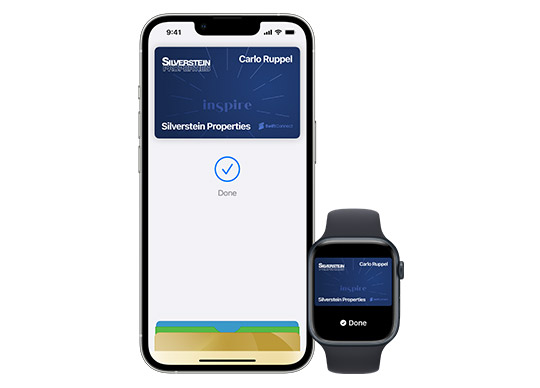 Silverstein Properties has introduced contactless access to its 7 World Trade Center office building through employee badge in Apple Wallet.
Silverstein's employee badges in Apple Wallet allow users to easily access its office buildings, tenant floors, fitness centers and amenity spaces using their iPhone or Apple Watch. Starting at 7 World Trade Center, the company plans to offer the service to its 50,000 office customers in New York, Philadelphia and Los Angeles in the coming months.
"We are proud to make it easy for our employees and customers to get into our buildings, their offices, and our shared lounges, cafes, conference facilities and yoga studios using employee badge in Apple Wallet on iPhone and Apple Watch," said Tal Kerret, President of Silverstein Properties. "Through our Inspire app, we can now provide and manage access to any number of buildings and spaces in a safe and secure way."
How it works:
Seamless Set-up: Employees and tenants can add their employee badge to Apple Wallet after an initial set-up through Silverstein's Inspire app. Once added, the badge will give them access to enter their office building, office space and shared fitness and amenity spaces. Unlike the physical cards, there is no waiting time for gaining building credentials and access for new employees.
Simply Tap iPhone or Apple Watch to Unlock: Once an employee badge is added to Apple Wallet on iPhone or Apple Watch, users can hold their device near the door's NFC-enabled lock to access secured areas. With Express Mode, tenants don't need to unlock their device to use their badge in Apple Wallet. If their iPhone needs to be charged, they can still use the device to access their office or amenity areas for up to five hours with Power Reserve.
Secure and Private: Employee badges in Apple Wallet are stored on personal devices and take full advantage of the privacy and security built into iPhone and Apple Watch. When a Silverstein employee uses a badge in Apple Wallet, it is never shared with Apple or stored on Apple servers. If their iPhone or Apple Watch is misplaced, the owner of the device can promptly use the Find My app to lock the device and help locate it.
"We are delighted to partner with Silverstein and SwiftConnect to bring new-age experiences that transform how property owners provide value to employees and tenants," said Björn Lidefelt, Executive Vice President and Head of HID Global. "We are excited to extend our collaboration with Apple in providing this groundbreaking experience that transforms how users navigate the modern workplace."
"The remote and programmatic provisioning of credentials and permissions to users in real time will open up new ways in which people interact with and use buildings and offices," said Matt Kopel, President of SwiftConnect. "We are excited to work with Apple, HID Global and Silverstein Properties in this digital transformation of how customers access and engage Silverstein Properties' portfolio."