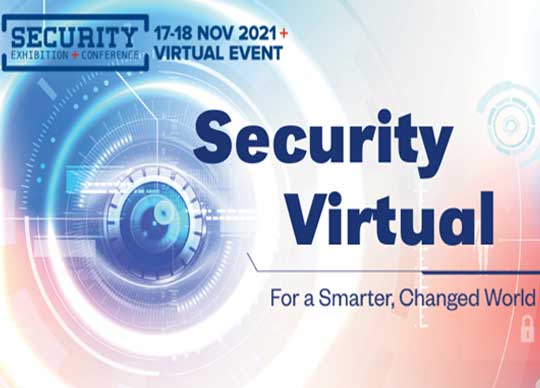 In a year (or two) like no other, it has never been a more important time for security professionals to reunite and get back to business. While we may have to wait a little longer to connect face-to-face again, this year's Security Exhibition & Conference, transformed into a fully interactive virtual event, promises to keep the industry connected and empowered for a smarter, changed world.
1.Connect with the global security industry for the first time in over a year 
The last 18 months have certainly been a challenging time for security professionals, with everyone feeling the effects of lockdown and non-lockdown whiplash. Security Virtual this November will be your opportunity to finally connect with your business peers and see the latest innovations and security transformations that are revolutionising how we work, learn and live, over two days and all in one platform. Chat virtually, set up meetings face to face and tune in to product demos and curated education sessions at the ASIAL Security Conference.
2. Get access to 2 free education sessions 
By registering for the free to attend virtual exhibition, you automatically gain access to one free session per day of the ASIAL Security Conference (tickets start at $350 for the full program).
Start day one with an important discussion on where the security industry is heading and what we need to be ready, led by Dr Gavriel Schneider, CEO at Risk 2 Solution.
Then, return for the start of day two with another important discussion on the state of the security industry in a post COVID world, led by David Cameron, Chief Security Officer at International SOS.
Check out the full program and line-up of speakers here.  
3. Browse the latest products elevating security 
Although it has been over two years since the security community came together in person, industry output has not slowed down.
At Security Virtual you can expect to see all the leading brands showcasing their latest products and innovations that are transforming the industry. Just some of the virtual exhibitors you can expect to see include Hills, simPro, AXIS Communications, Milestone Systems and so many more.
Check out the full list of exhibitors here.
4. Speak to the brands from the comfort of your own home (or office) 
With face-to-face interaction waiting until 2022, Security Virtual brings a great opportunity to connect with your peers and hear from some of the leading industry experts not just nation-wide but on a global scale all from the comfort of your own home or office.
Within the virtual platform, visitors will have access to browse products, set up virtual meetings and connect almost immediately with those hard-to-reach brands.
5. Gain exclusive access to both AV and Security industries  
With an increasing demand for smart solutions across both physical security and integration, the co-location of Security and Integrate Virtual is set to significantly enhance Australia's leading AV, Integrate and Security events, becoming the only exhibition in Australia to service both industries.
As a virtual attendee, you will have the freedom to explore both virtual show floors and connect with manufacturers in real-time via our web portal. This presents a unique opportunity to expand your reach to a broader community of end users, consultants, core AV and security installers and integrators who are interested in these solutions that sit across both industries.
Don't miss out on this exciting opportunity to reconnect with the industry and register FREE online here to attend Security Virtual, 17-18 November 2021. See you there! #Security2021