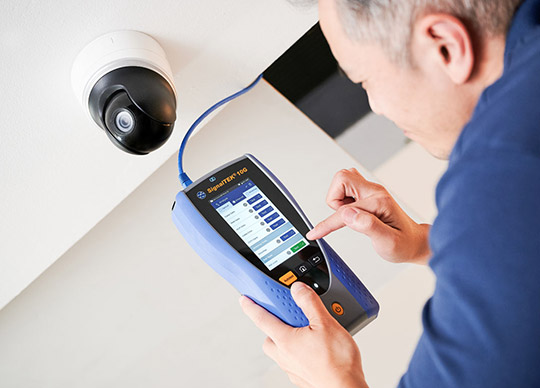 A new generation of handheld tools can help security installers overcome key industry challenges and benefit from significant time and cost savings, says TREND Networks.
"Despite the fact that the security market is changing, we see many businesses configuring, installing and troubleshooting IP security cameras using laptops, even though it's time consuming and ineffective," says Tim Widdershoven, Marketing Director for TREND Networks. "Many are simply unaware of the productivity benefits possible by tackling their most common challenges on the job with a new approach to test equipment."
Challenge: Emerging Technologies
Arguably the biggest trend affecting the security industry in recent years has been the switch to digital IP cameras from analogue technologies. Installers are faced with having to fit unfamiliar, fast evolving equipment and obtain new knowledge to keep up with customer demand. With numerous types of CCTV camera, plus many different configurations and connection methods, installation and troubleshooting can be time intensive and complicated.
The handheld SecuriTEST™ IP CCTV tester supports installers through this transition, with features to help save time and boost productivity such as QuickIP, which enables novice technicians to connect and configure IP cameras quickly and easily. Even on complex installations, users may only need to use one tester, helping remove the need for in-depth and time-consuming training.
Where security installations are using Power over Ethernet (PoE), technicians also need to be able to verify that the camera has enough power to function. The compact PoE Pro tester from TREND Networks eliminates guesswork when installing, maintaining, and troubleshooting networks where PoE is deployed. Installers can easily verify Pass/Fail, even without a full understanding of the various industry testing standards, device power outputs, and cable lengths that are required for a device to operate successfully.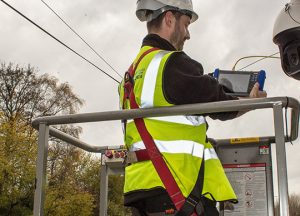 Challenge: Network integration
"Analogue CCTV was installed with its own infrastructure, a series of hardware and cables for controlling the cameras," explains Tim. "However, IP security cameras are usually installed to an existing network, already in place supporting computers, phones, or IoT (Internet of Things) devices. Installers now need to understand the completely new area of how network integration works in order to conduct installation correctly or troubleshoot issues."
First, it's important to verify that the network has the bandwidth to support the cameras and prevent poor image quality, for instance. The SignalTEK 10G tester can be used to determine maximum bandwidth up to 10 Gb/s and identify areas with bottlenecks. Post installation, it can also be used to troubleshoot Ethernet connectivity issues faster using diagnostic tools such as the 72-hour event log which helps diagnose intermittent connectivity issues faster.
During commissioning and maintenance, SecuriTEST IP can also be used for a range of network troubleshooting and advanced testing requirements, including cable tracing, length, wiremap, and quality testing, removing the need for installers to carry multiple instruments.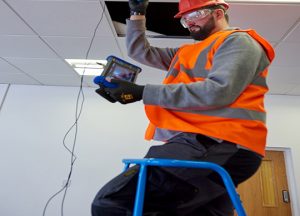 Challenge: Changing use of cameras
Cameras are increasingly being used for a wider range of purposes, not just for observing crime, such as number plate recognition, access control, and fire monitoring. Camera installations have also been used to aid compliance with Covid policies, observing that social distancing is being adhered to, for instance.
"For outdoor cameras, installation can be especially complex where installers don't have the correct tools to test a fixed camera," says Tim. "Time is spent travelling up and down a ladder to check the angle on a laptop. In the case of a new network installation or where building construction is in progress, set up can only be completed at a later date, returning to site when the IT infrastructure and computer room are in place and performance can be checked."
With a handheld SecuriTEST IP tester, the whole installation can be completed, tested, and documented, removing the time-consuming need to return to site later. It is small, lightweight and does not require external power adapters and injectors, has 10-hour battery life and is operable with one hand, supporting productivity even for installers working on lifts and ladders.
Challenge: Residential security boom
As demand for home security cameras and devices such as video doorbells has increased, the cost has become ever more affordable, even for those looking for more advanced solutions. The global smart home security camera market size was valued at USD 3.71 billion in 2019 and is expected to grow at a compound annual growth rate (CAGR) of 15.7% to 2027*.
However, residential customers do not necessarily have the same understanding of how these systems work as a commercial user, making it even more important to be able to clearly document the installation has been done correctly to prove performance and prevent unpaid callbacks.
SecuriTEST IP features advanced reporting to enable installers to document performance on site in detail, rather than filling in excel documents to create reports. When an issue arises, the proof of performance reports can demonstrate both camera images and network configuration, making return visits to site billable, especially in the case that the customer has changed the network parameters.
"With SecuriTEST IP, users can depend on a simple, handheld tool that can replace an Ethernet cable tester, laptop, PoE injector, PoE tester, and reporting tool. Plus, it connects first time without the need to change complex settings and deliver reliable test results," says Tim. "And supported by a suite of our other complementary test solutions, security installers can save huge amounts of time on every job and keep their customers happy."