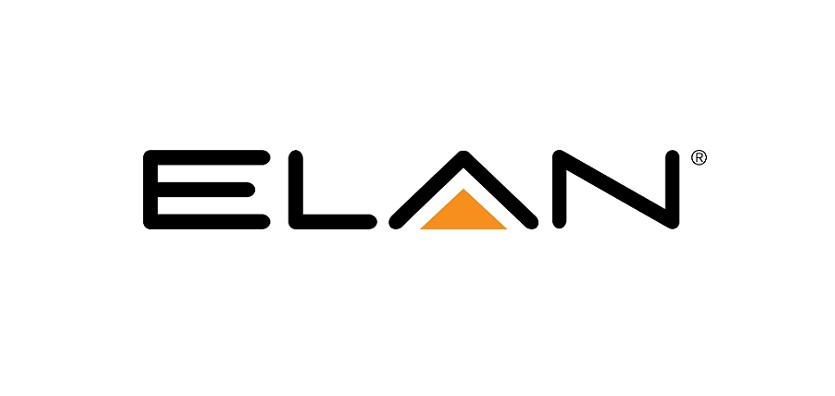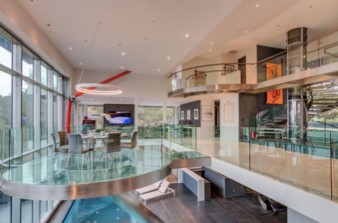 Luxury home architects and ELAN® integrators are increasingly collaborating to dramatically change the way smart homes are being designed and built.
One such recent collaboration between renown California architect Malika Junaid of M.Designs Architects and technology integrator Shawnon Parkinson of ZettaComm resulted in what the pair agreed was the perfect fusion of technology and design; so much so, that in addition to recommending ELAN for her customers' homes, Junaid called on ZettaComm to build an AV system of her own.
"After being consistently impressed with the system, Malika decided it was time to build a new home with ELAN at the helm," explained Parkinson. "And after seeing what the system could do for her customers, she really sought to push the envelope and automate every aspect of her luxurious Los Altos Hills residence, which is jam-packed with unique architectural and design elements."
ZettaComm installed an ELAN gSC10 as the master controller, supported by an ELAN g1 controller, to automate every facet of Junaid's luxury home, including climate, audio, video, security, lighting, as well as control of the indoor pool and jacuzzi. The home's various AV elements could be accessed using a custom-mounted ELAN 12-inch touch panel, wall-mounted ELAN touch panels and multiple mobile devices equipped with the ELAN App.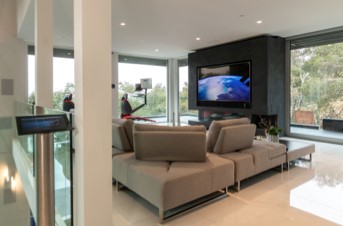 Junaid had the intention to 'push the envelope' both with technology and architecture, resulting in a unique collaboration process between her and Parkinson. For example, she designed an airplane hangar door that opened up to a beautiful hillside and valley view; an indoor pool lined with a tile replica of a segment of Michelangelo's Sistine Chapel painting; a catwalk that runs over the pool and leads to a 'Star Trekian' dining room table that allows for both an indoor and outdoor dining experience; and even an air-pressurized elevator that "shoots" riders up to the second floor.
"There were a lot of innovative design elements that we needed to integrate with the ELAN system to truly deliver the seamlessness that she was looking for," Parkinson explained. "The installation was certainly a challenge, but thanks to the system's flexibility, we were able to get very creative with the install and really show off the full capabilities of the system."
In addition to automating unique elements throughout the home, Parkinson was tasked with building out a sophisticated yet seamless security system to span the entire property. "Security was a major priority for Junaid and the decision to go with the new ELAN Surveillance camera line, paired with ELAN control, was an easy one," Parkinson commented. "ELAN's Surveillance line provides live and recorded video review via ELAN touch panels or remotely with the ELAN mobile app."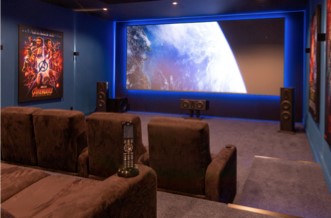 ZettaComm also installed a GoControl® Smart Controller for secure and easy operation of the Garage Door Opener, and relied on Xantech® EX Series HDMI cables to provide the necessary high-speed connections for all the home's 4K multimedia security sources.
For entertainment, Parkinson installed Niles® CM8PR and CM7SI in-ceiling speakers inside to deliver targeted and crisp indoor audio, with a Sunfire® HRSIW8AMP subwoofer amp outside to power Niles Landscape Series speakers, creating a 360-degree outdoor audio experience. "The Niles' Landscape Series Speakers brings the same full indoor sound experience to outdoor spaces," Parkinson commented. "Plus, they are super durable, so I know that they will provide years of entertainment value."
ZettaComm also configured the ELAN system to control a Star Wars-themed home theater room with a slick custom "movie mode" scene that dims the lights, sconces and LED behind the screen. Parkinson outfitted the theater with stretched HD Acoustic Images absorption paneling that look like and act like movie posters, but have special acoustic properties. The theater's power conditioning is expertly handled by the Furman® IT-Reference 20i Power Conditioner.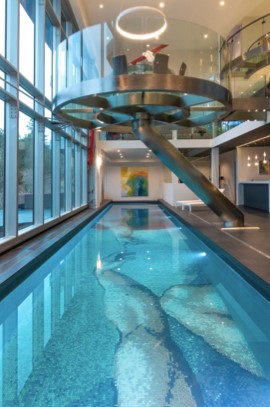 Throughout the rest of the home, ZettaComm integrated a sophisticated dual-lighting system with Lutron, accessed through ELAN, to control and automate lighting throughout the entire property. "ELAN expertly handles a lighting infrastructure of this scale," Parkinson commented.
To protect the whole-home system, ZettaComm installed multiple BlueBOLT-enabled Panamax® power protection units, including the SM3-PRO, MB1500, VT4315-Pro and the M4000-Pro. Along with the power and surge protection it affords, he likes the flexibility of being able to perform remote hard reboots and remote monitoring of network status.
Summarizing the project and collaboration with Junaid, Parkinson was pleased on several fronts. "This install went really smoothly and the collaborative process working with Junaid was such a pleasurable experience," he said. "We were able to get an amazing amount of work done in a short amount of time and it all turned out just as Junaid envisioned." And Junaid echoed the thoughts from the architect and homeowner perspective, saying: "Technology and design, when paired well together, can create the ultimate living experience in today's connected culture. Working with ZettaComm and ELAN, I knew the possibilities were limitless."