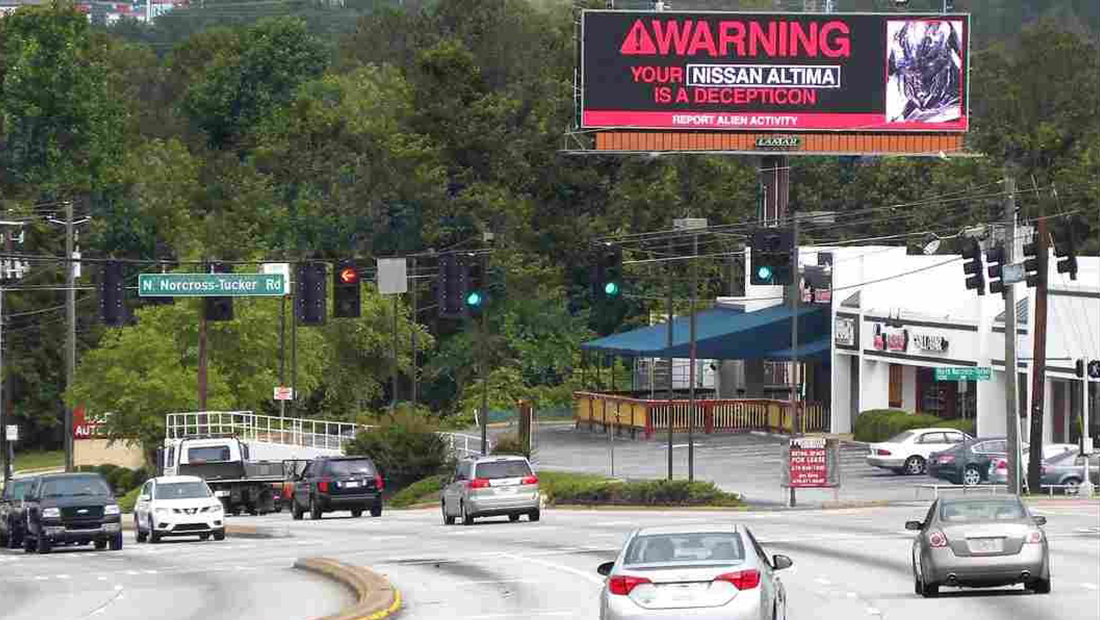 Lamar advertising uses Intelliscape solution with Milestone software to drive unique digital billboard campaign for Transformers 5 movie

Milestone Systems had a role this summer in helping launch the latest installment of the blockbuster movie franchise Transformers 5: The Last Knight. Faced with an exciting movie release, Lamar Advertising wanted to do something unique for their client, Paramount Pictures, to gain attention and create a buzz with moviegoers — something new, different, and interactive.
Lamar Advertising had previously worked with Milestone Solution Partner Intelliscape, on a digital billboard campaign where Milestone software, Canon IP video cameras and video analytics were integrated to identify certain makes and models of cars for the purpose of presenting responsive, targeted ad messaging.
With a few modifications, the team took this concept to the next level, and designed a digital billboard system that could identify specific cars and "speak" to their drivers directly with billboard art and creative that reads in large bold letters: "ATTENTION: Your Car is an Autobot!"
"As fans of the Transformers franchise know, the cars and vehicles play important roles within the movies," said Ian Dallimore, Director of Digital Innovation, Lamar Billboards. "The color, make and model of the car characters are critical, and we wanted to be able to spot cars on the highway — in real time — and send them a direct digital billboard message."
The solution immediately recognizes a target vehicle and delivers the custom billboard advertisements accordingly, incorporating the car make and model within the message: Attention Your Honda Civic is an Autobot!  Recognition data for Ford Focus, Toyota Camry, Nissan Altima, and Chevy Malibu are also included.
Cameras fed into Milestone XProtect Corporate video management software (VMS), which has an open platform that enables interoperability with other systems. The Intelliscape analytic solution integrated the VMS with proprietary analytics for car recognition that matches vehicles against a database of those with the same make and model.
Intelliscape Managing Director, John McGiffin, and his team created and implemented the Milestone-based solution. He explained that there are many factors involved that must be taken into account for the digital billboard integration, such as vehicle speed, lighting, and camera angles. Since each location is different, multiple images of targeted vehicles are used to create a database to identify cars as they pass by.
"This is not unlike a facial recognition system, but we're using a database of vehicle images and information to make positive identifications. The software then triggers the right message to appear on the billboard," said John McGiffin. "There are a lot of moving parts to this type of project. We needed a solid platform that wouldn't give us any problems — and that means Milestone. We're thrilled with the VMS. It's easy to work with, is very open and stable, and works great with our software."
Ian Dallimore added: "Our medium is usually all mass media, but this solution enables us to have a direct conversation with people. This is really taking digital billboards and target marketing to the next level. It's pretty cool what we're able to do."
About Intelliscape
Intelliscape is a unique organization pioneering a new technology field specializing in recognition technologies such as Facial Recognition, Gesture Recognition, License Plate Recognition, Behavior Recognition and Vehicle Make/Model Recognition to name a few leveraging Deep Learning and Video Analytic technologies.  These capabilities address a very wide range of business problems across Security, Customer Experience and Safety.  Intelliscape also pioneered Security 4.0 approaches which involves analytics and Milestone VMS hosted in the cloud thereby providing a higher level of business value and speed to deployment for Intelliscape customers.  Rather than relying on Security Operators to observe a situation, Security 4.0 automated situational awareness advises the Security Operator that "You need to be aware of this".