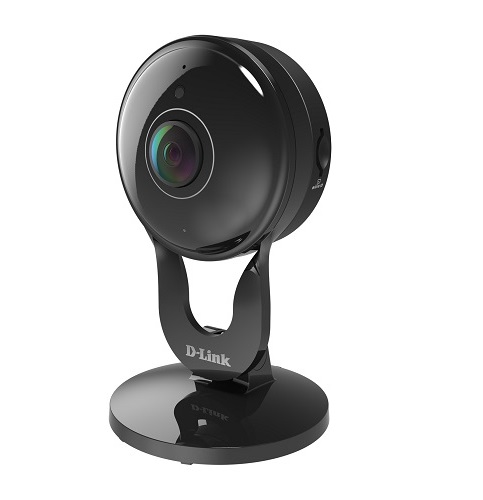 D-Link ANZ has launched its newest mydlink-enabled Wi-Fi Camera, the Full HD 180-Degree Wi-Fi Camera (DCS-2530L). Most competitor cameras provide, on average, a 130-degree lens, whereas the new DCS-2530L offers a 180-degree field of view, so users can monitor an entire room in Full 1080p video quality with fewer blind spots. Using unique de-warping technology, the ultra-wide 180-degree angle lens is able to take a "fish eye" view and transform it into a more viewable video stream with less distortion.
The Full HD 180-Degree Wi-Fi Camera also features a built-in microSD card slot1, providing users more flexibility on recording video locally to the camera without impacting network or Internet bandwidth. Users can choose different options for recording based on event trigger, schedule or continuous recording for more control on what or when to record. In addition, live video streaming can be easily accessed and managed from anywhere using the free mydlink lite app for iOS, Android and Windows, all with no recurring monthly subscription fees.
D-Link ANZ MD Graeme Reardon said, "Users of the new DCS-2530L can enjoy monitoring their home in Full High Definition video with the widest viewing angle available at a full 180 degrees, so not only can you see and monitor more of your home with a single camera, you can receive alerts via your mobile device wherever you are in the world, and see what's going on via the free mydlink lite app."
The DCS-2530L also provides up to 5 metres of viewing in total darkness, allowing users to monitor more, even in pitch black conditions. Along with simple push button setup, the DCS-2530L features a Wi-Fi Signal Locator, an LED that helps users place the camera in optimal range within their Wi-Fi network for reliable streaming and recording.
More about the Full HD 180-Degree Wi-Fi Camera (DCS-2530L):
180 Degree Field of View – Widest angle lens on a fixed consumer camera
Full HD 1080p Quality Video – Rich detail and crisp image quality for monitoring your home
Unique De-Warping Technology – Maximises video quality with less distortion
Wi-Fi Signal Locator – LED that guides users to the best camera placement, ensuring reliable connectivity for streaming and recording
Sound & Motion Detection – Automatic alert notifications keep you informed of events occurring in your home
Local Recording – Record continuous, scheduled, or detection triggered video clips directly to a microSDXC card up to 128GB
Night Vision – See up to 5 metres in complete darkness with two built-in IR LEDs
The DCS-2530L is available now from www.dlink.com.au for AUD$299.95, www.dlink.co.nz for NZ$399.99 and from all authorised D-Link retailers and resellers in Australia and New Zealand.
About D-Link
Celebrating its 30th anniversary in 2016, D-Link is a global leader in connecting people, businesses and cities. We aim to connect more homes, small businesses, medium to large-sized enterprises, and service providers. D-Link implements and supports unified network solutions that integrate capabilities in switching, wireless, broadband, storage, IP surveillance, and cloud-based network management.  An award-winning designer, developer, and manufacturer, D-Link has grown from a group of seven friends since its founding in 1986 in Taiwan to more than 3,000 employees worldwide.
For more information visit www.dlink.com.au, or connect on Facebook (www.facebook.com/DLinkAUNZ) and Twitter (www.twitter.com/DLlinkAustralia).