The BC Empresarial business center has deployed efficient, integrated building management with Axis cameras and Milestone video security
A Milestone Systems open platform IP video management software (VMS) has been deployed in the BC Empresarial business facility in Barranquilla, Colombia, operating with an access control and building management system (BMS) from Andover Continuum, and network video cameras from Axis Communications. The combined solution handles monitoring for both security and sustainability levels, to make it the first building on the Colombian Caribbean coast to obtain the distinction of LEED certification Gold Level status – without sacrificing building security in any way.
Tasked with attracting large corporations to the BC Empresarial business center, facility owners also had another objective: maintaining the high standards of sustainability to achieve LEED (Leadership in Energy & Environmental Design) certification. The building's 19 floors include 130,000 square feet of office space and serve 1,500 tenants and visitors per day.
"We wanted IP video surveillance technology built with open architecture, and a building automation system capable of integrating the video system control with all the basic environmental and security services in the building," said Naisir Abdala, representative for AP Ingeniería, the integrator in charge of the project. "We selected the Milestone XProtect VMS platform and Axis IP cameras which together work seamlessly with the Andover Continuum building automation platform."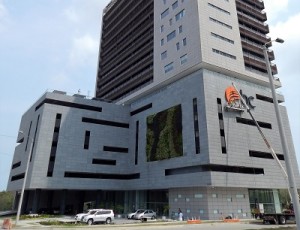 BC Empresarial spokesperson Eric Domínguez added that because the Andover Continuum system can also control the building's HVAC and lighting systems, the combination was a perfect solution.
"This was why the Milestone open platform VMS is such an advantage," said Abdala. "It's robust, yet offers an integration-friendly interface that works perfectly with the Andover Continuum BMS that also maximizes our energy efficiency."
Milestone software has the capacity for ongoing expansion over time. Additional investments will be minimized due to the open design of the platform with the ability to integrate new components as more technology innovations come to market.
"The value and effectiveness of the Milestone video platform and Axis cameras have not gone unnoticed," said Abdala. "Two of the buildings' feature tenants from Transelca, the country's energy infrastructure managers, and Cable & Wireless, one of Columbia's optical fiber infrastructure providers, have also installed their own Milestone/Axis systems after experiencing the benefits of our solution."
About Milestone Systems
Milestone Systems is a global industry leader in open platform IP video management software, founded in 1998 and now operating as a stand-alone company in the Canon Group. Milestone technology is easy to manage, reliable and proven in thousands of customer installations, providing flexible choices in network hardware and integrations with other systems. Sold through partners in more than 100 countries, Milestone solutions help organizations to manage risks, protect people and assets, optimize processes and reduce costs. For more information visit: www.milestonesys.com. For more news and viewpoints visit our microsite: The Milestone Post and follow us on Twitter @MilestoneSys.