Delivers Wider Video Coverage and Superior Image Quality 
Continuing to demonstrate the highest value and performance to customers with open-platform systems, OnSSI is expanding its technology partnership with Bosch Security Systems to enable integration between Ocularis 5 Video Management System (VMS) and the new FLEXIDOME IP panoramic cameras.
"The combination of Bosch cameras and IP devices with OnSSI's Ocularis video and event management platform provides our customers with the advanced capabilities they need to get the most out of their video surveillance applications," said Mulli Diamant, VP of International Business Development, OnSSI. "Additionally, by integrating FLEXIDOME IP panoramic cameras with Ocularis, we are also able to provide installers and systems integrators with powerful new solutions they can use to address a greater variety of video applications."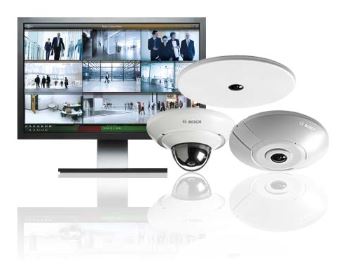 FLEXIDOME IP panoramic cameras provide a complete 180- or 360-degree overview of an area in a single view. Ocularis performs dewarping on the streams to eliminate video distortion caused by the cameras' fisheye lenses to produce highly detailed images.
"Our FLEXIDOME IP panoramic cameras provide operators with an overview image of an entire area – eliminating blind spots and improving surveillance operations," said Brad Eck, Integration Manager, North America, Bosch Security Systems, Inc. "The powerful dewarping capability of Ocularis 5 makes it easier for our mutual customers to gain more insight and intelligence about critical events from their panoramic video images."
This latest integration is part of a continued partnership between OnSSI and Bosch Security Systems to deliver enhanced capabilities. Ocularis already supports video analytics, as well as the Intelligent Dynamic Noise Reduction (IDNR) feature of Bosch IP cameras, which reduces storage costs and reduces bit rate by as much as 50 percent to relieve the strain on network bandwidth. Other supported features include edge recording to prevent video loss during network outages or server failures, multi-streaming, tamper- and motion-detection and more.
Ocularis 5 provides stronger video security with features including end-to-end encryption for the VMS, a scrambled recorded video database to protect the integrity of recorded video, and the ability to record directly to a NAS anywhere on the network. Ocularis 5 is designed as an intelligent, cost-effective platform that simplifies workloads and system management. There is no need to register camera licenses and MAC addresses. It features automatic load balancing for managing recordings across system servers. Unique to Ocularis, Critical Camera Failover ensures continuous sight by switching to a failover camera in as little as two seconds. Ocularis 5 also allows for multiple different recorders to be combined under the same Base (including legacy Ocularis 4.X recorders) with centralized user and event management.
About OnSSI
On-Net Surveillance Systems, Inc. (OnSSI) was founded in 2002 with the goal of developing comprehensive and intelligent IP video surveillance management software. OnSSI's Ocularis IP security and surveillance VMS platform increases security, reduces operational costs, and helps organizations move closer to prevention. Ocularis delivers open architecture, flexibility, and scalability for a range of applications including education, gaming, government, healthcare, manufacturing, public safety, transportation, and utilities. OnSSI is headquartered in Pearl River, New York and has representation in over 100 countries. With its acquisition of Germany-based VMS company, SeeTec AG and the launch of Ocularis 5, OnSSI continues to drive global expansion and technological innovations.
About Bosch Security Systems, Inc.
The Bosch division Security Systems is a leading global supplier of security, safety, and communications products and systems. In selected countries Bosch offers solutions and services for building security, energy efficiency and building automation. More than 13,000 associates generated sales of roughly 1.7 billion euros in 2015*. Protecting lives, buildings and assets is the major aim. The product portfolio includes video surveillance, intrusion detection, fire detection and voice evacuation systems as well as access control and management systems. Professional audio and conference systems for communication of voice, sound and music complete the range. Bosch Security Systems develops and manufactures in its own plants in Europe, Americas and Asia.
Additional information is available online at www.boschsecurity.us