Value-Orientated IP Camera with Professional Grade HD Video Quality

D-Link ANZ has launched the next camera in its affordable, professional grade Vigilance IP surveillance series, the Vigilance Full HD Outdoor Mini Dome Network Camera (DCS-4802E).
D-Link ANZ MD Graeme Reardon said, "Consumers may well be observing a very deliberate pattern in the Vigilance IP camera product line since its successful launch last year. Put simply, D-Link recognises that an increasing number of businesses are seeking value-orientated, professional surveillance cameras that offer a wide range of features, yet are easy to use, hence the DCS-4802E now expands further the Vigilance series line-up. As a result of the success of these products and the continued demand for them we will continue to invest in this range with cameras such as the DCS-4802E."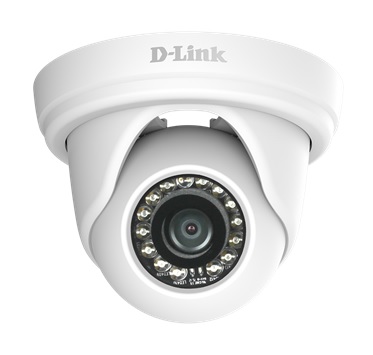 The Vigilance DCS-4802E is an Indoor/Outdoor Dome Camera offering Full HD 1920×1080 resolution, integrated infrared illumination for seeing up to 20 metres in complete darkness and a rugged IP66 weatherproof housing that ensures continuous performance even in extreme climates. Other features include a unique 3-axis design allowing for precise positioning of the lens, 3D noise filtering for enhanced low light performance and PoE (Power over Ethernet) for convenient single cable installation.
More about the DCS-4802E
The Vigilance DCS-4802E features a rugged design with a range of capabilities designed for deployment in small, medium, and large enterprises, including:
Two Megapixel Full HD 1080p resolution (1920 x 1080)
Wide Dynamic Range (WDR) video enhancement
Infrared LED night vision with viewing up to 20 metres in complete darkness
8mm lens (108° diagonal field of view)
360-degree pan, 75° tilt and 360-degree rotation capability
Video motion detection
IP66 Weatherproof rating
Built-in 802.3af compliant PoE module for easy installation in a variety of locations without the need for supplemental power cabling
ONVIF compliance for third party VMS and NVR support
Availability and pricing
The DCS-4802E is available now for AUD$349.95 and NZD$499.95 and can be purchased at http://www.dlink.com.au/business-solutions/vigilance-full-hd-day-night-outdoor-turret-poe-network-camera or through D-Link's network of channel partners, resellers, solution providers and distributors.
Picture credit
The new DCS-4802E Vigilance Full HD Outdoor Mini Dome Network Camera
More images of the DCS-4802E can be found here: http://files.dlink.com.au/Products/DCS-4802E/Images/ 
About D-Link
D-Link helps connect to more of everything with an innovative approach to computer networking. From relatively modest beginnings in Taiwan, the company has grown over the last 30 years into an exciting global brand offering the most up-to-date network solutions. Whether it is to suit the needs of the home consumer, a business or service provider, D-Link offers award-winning networking products and services that help build networks for people around the world.
Connect with D-Link Australia
Visit D-Link Australia's website at www.dlink.com.au
Connect with D-Link on Facebook at www.facebook.com/DLinkAUNZ
On Twitter at www.twitter.com/DLinkAustralia
On YouTube – www.youtube.com/TheDAUSMarketing